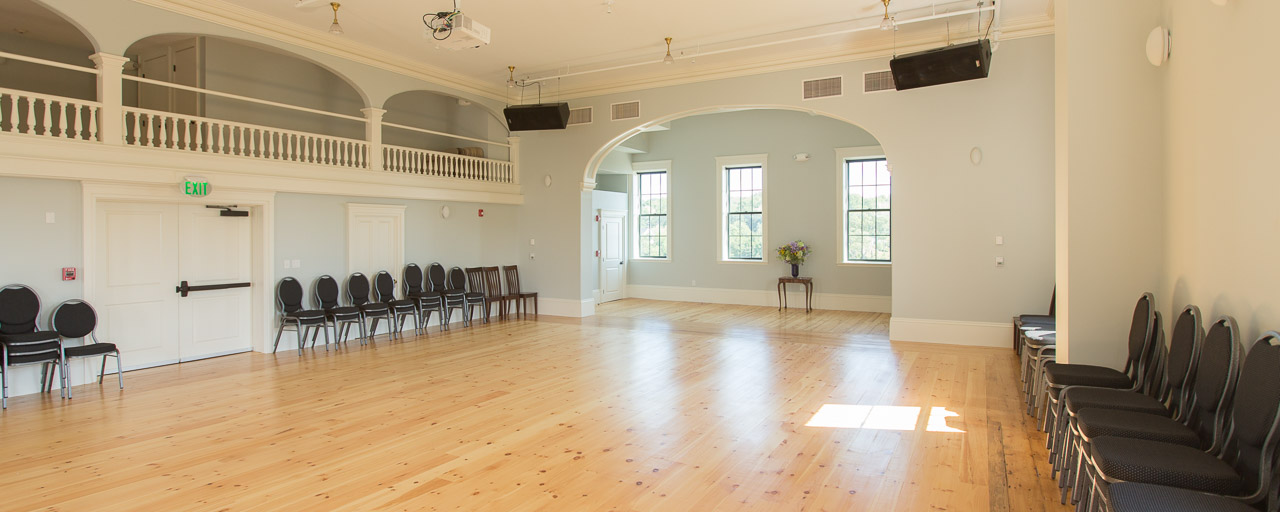 Weddings & Special Events
The event hall and mezzanine provide flexibility to arrange seating up to 110 people for a dinner or in rows for a presentation or movie. Located on the second floor, there is elevator service from both the street and lower levels. There is catering set-up space in a room just off of the hall, with additional space available on the lower level. Restrooms are available right outside the event hall doors and on the lower level. Up to 110 chairs and 10 (48″) round tables are on-site for your use and included in the pricing. You may choose to take advantage of the harbor, mountain, and village views from the 10 large windows or pull down the blinds to create the desired atmosphere.
The state of the art audio/visual equipment will provide a great movie experience or simply allow projection of an embarrassing picture during a best man's speech. Parking for your event can be accommodated in the rear lot, along the street, and/or in the Town lot at the bottom of the hill.
Audio/Visual Amenities: The Hall is equipped with a beautiful Panasonic High Definition projector, a retractable 14′ wide screen, and a great 2,000 watt sound system designed for clarity and accuracy, and most of all, presence, making a poetic whisper just as powerful as a six piece rock and roll band. There is a 16×6 input Digital mixer controlled on the floor with a supplied iPad. There are two projector input sites, and wireless mics for your untethered needs.
Event Hall Rental Rates (Non-Profit Groups)
Please call for special non-profit pricing.
Event Hall Rental Rates (Weddings, Social & Private Events)
Full day rental, Weekdays (Mon – Thur)
$3000.00
Full day rental, Weekends (Fri, Sat, or Sun)
$4000.00
In-House Services
House Manager
$35/hour
Technical Services
$50/hour
Janitorial Services
$30/hour